25

|

Oct

|

2009
Runners in Prospect Park, Brooklyn and in cities worldwide (24 registered cities) wore the same red race shirt yesterday and gathered to participate in what Nike called "The Day the World Runs". It was a fun 10K race and Prospect Park's scenery was fantastic. Luckily, the rain gods were kind and the race was rain-free on Saturday morning at 8am. 3,464 runners participated and finished with an average pace time of 1:02:55. Overall, I was impressed with the organization of the race and the events that followed. Nike had tents set up for product giveaways and testing, free food and snacks, and race results. Basically, it was a star wars convention for runners. But hey, runners should dork-out too, i.e. pics of me before and after completing the race with my friend, Nicole.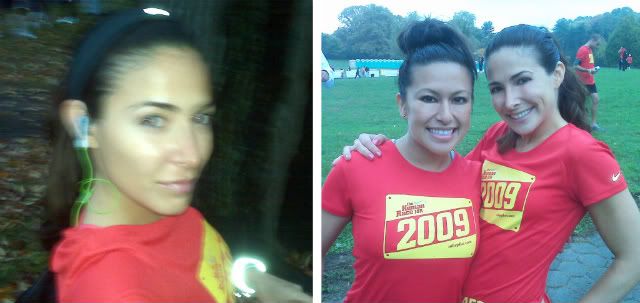 I must say, I love the Nike + Human Race shirt! I'll definitely be wearing mine again unlike other race shirts which usually end up at the salvation army. The race shirts are nicely fitted and lightweight with wicking. When I went to pick mine up, they had XS and S sizes—unbelievable! Everyone was wearing their shirt yesterday (with layers beneath if necessary) which proves it was a hit.
If you plan on running the Nike + Human Race next year, I suggest arriving extra early. On Saturday, many runners were delayed on subways and had to start the race late. It's never fun when you have to run or hurry to the start line. It's better to relax, stretch and check in with your body before you race. Also, expect a challenging race especially if it's held again in Prospect Park. PP has a hilly landscape and 2 fast loops around it will definitely wear you out (in a good way, of course). Read up on the race and consider running next year—at least for the t-shirt, right? Check out the course map below.