24

|

May

|

2012
Anything Can Inspire You...Even A Gray Day
A few days ago, I joined Glam Media and a bunch of fashion bloggers on a yacht called the Atlantica for a Summer Sail on the Hudson River. Outside it was overcast, gray and dreary. These pictures look great but they're Instagram'd for your viewing pleasure.
Even Lady Liberty seemed to be in a state of gloom. And trust me, Instagram is doing her more than justice.
BUT...inside the Atlantica it was a summer soiree! My fashionista cohorts were decked in bright, summer-y outfits and accessories. Even the Atlantica's luncheon room was sunlit, floral and cheery. You'd never guess what kind of day it was outside from the picture below!
And yes, those are gift bags full of beauty and skincare products hanging from our chairs! Kind of amazing. I used some of the products from the Glam gift bag to build the "swim gym bag" you're seconds away from reading all about. But first, this is where I blow Glam a big thank you kiss for the bag full of goodies. Sometimes it's good to be a blogger!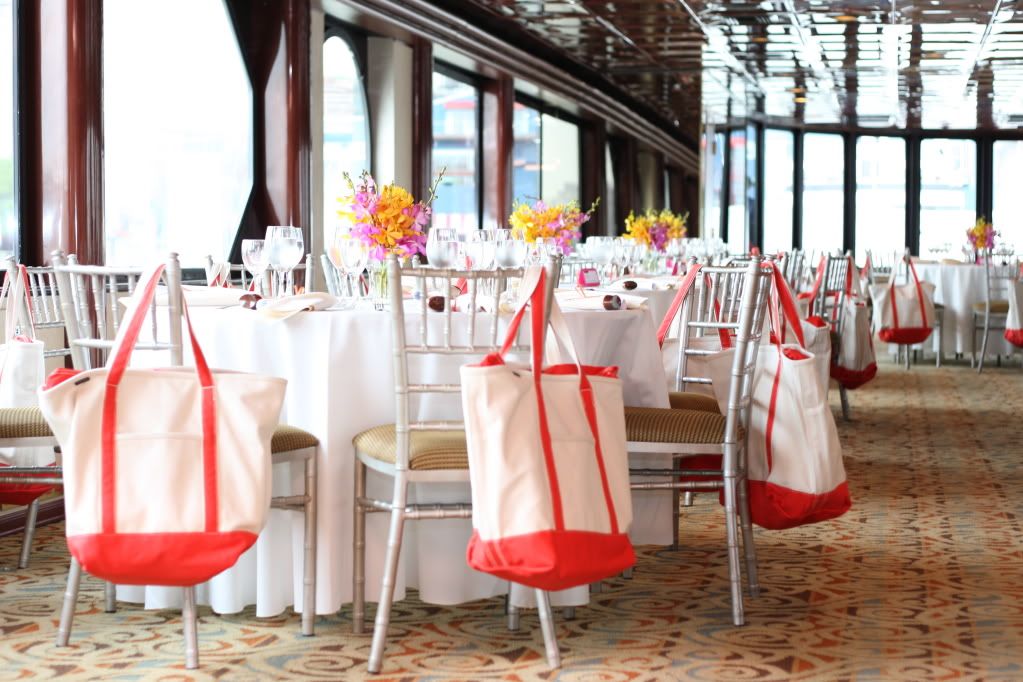 I was totally inspired by the Summer Sail event. So inspired that I coined the term "swim gym bag" while I was there. It's the bag you pack for a summer day trip that includes fitness near or on the water. I'm going to teach you how to assemble a "swim gym bag" of your own. But first, let's take a peek inside mine!
My 8 Tips For Assembling Your Very Own Swim Gym Bag
It's just like Styling Up 2 Shape Up, which you should know a lot about if you're a regular here at MizzFIT.com. Let's get the obvious out of the way: you've got to know where you're going and what kind of activities you'll be doing. A day on the beach (which might include a light jog on packed sand) requires different "tools & accessories" than a day of wakeboarding on a recreational lake. But that's where you'll have to do your own homework. Here are the basics to build your Swim Gym Bag:
Ahoy, New York City! Farewell, Charming Atlantica!
Moments before disembarking from the Atlantica, ice cream cookie sandwiches were presented for dessert. In fact, you could design your own. I passed on the delicious looking treat (I'm a health-nut, remember?) but made sure to photograph a friend's before it was devoured. I couldn't have asked for a better sailing day on the Hudson!
Disclosure: Compensation was provided by Hawaiian Tropic® Sun Care via Glam Media. The opinions expressed herein are those of the author and are not indicative of the opinions or positions of Hawaiian Tropic. Hawaiian Tropic is a trademark of Tanning Research Laboratories, LLC.